Good Conversations
It sounds simple doesn't it? Good conversations equate to better outcomes – by establishing a genuine
connection to potential donors and customers, as well as your existing customers. Isn't this what we're
all striving for? A genuine connection with our customers and our donors leads to more revenue at the
backend.
Get Started
We pioneered work-from-home agent teams, and that means that our agents
are mostly: 
More

 

age diverse

 

 

More educated (75% Tertiary educated)

More experience (85% have had prior sales/fundraising experience)

More Loyal, they

tend to stay with us – we have less than 5% staff turnover p.a
To deliver

 

the

 

true

 

benefits of

 

deploying

 

remote agents

 

Unity4 developed

 

the

 

proprietary tech platform that integrates the entire 'people' layer

 

 

Getting prospects to answer the 'phone is hard, but it's what happens after 'Hello' that is just as crucial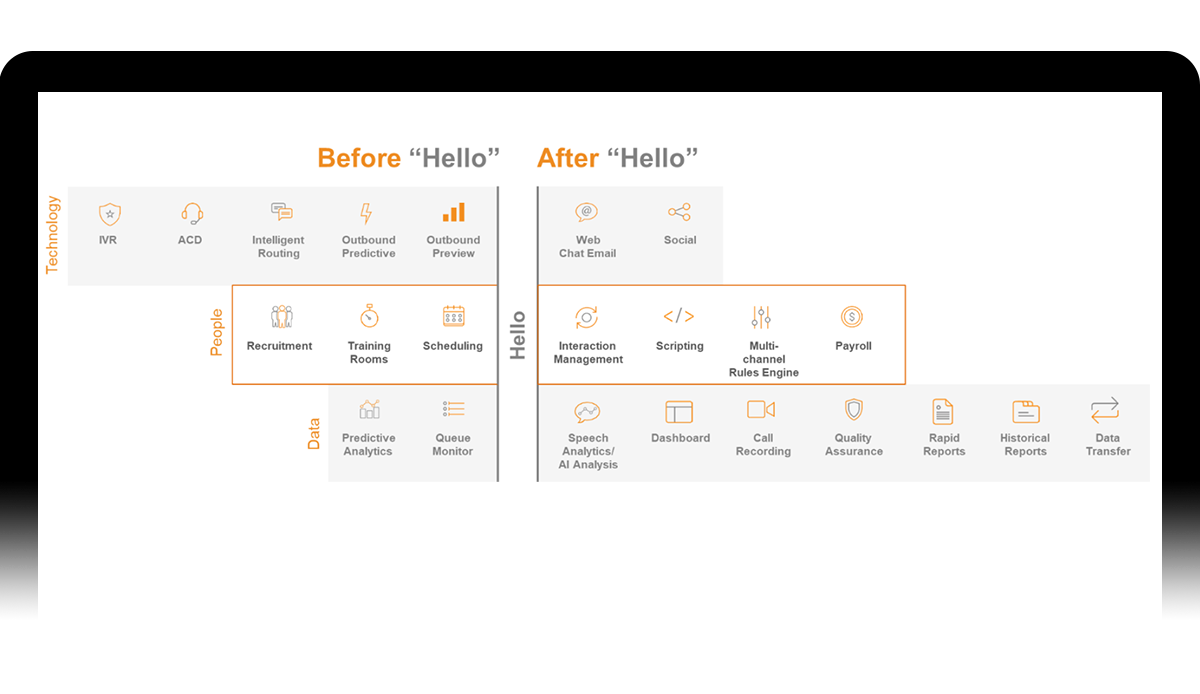 Unity4's complete customer interaction model delivers real time insights simply available from any competitor.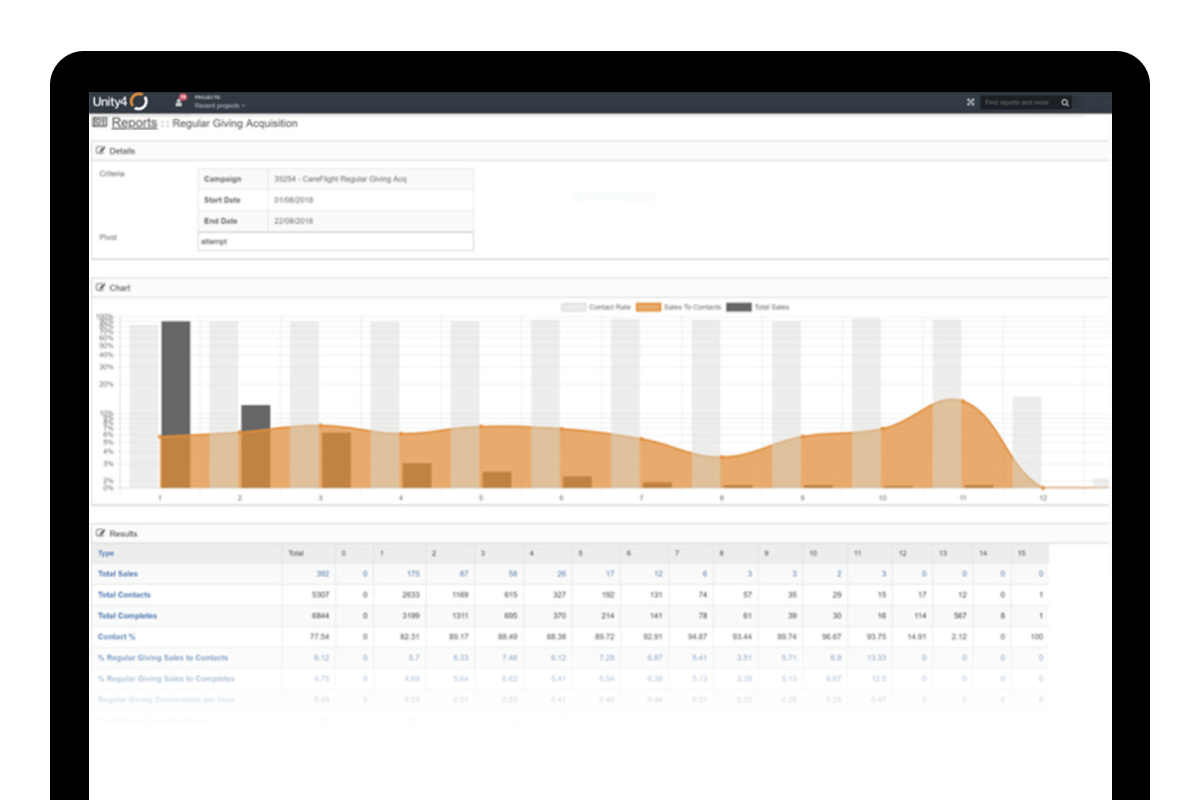 Sophisticated AI and Insights drives superior performance and enables continious improvement.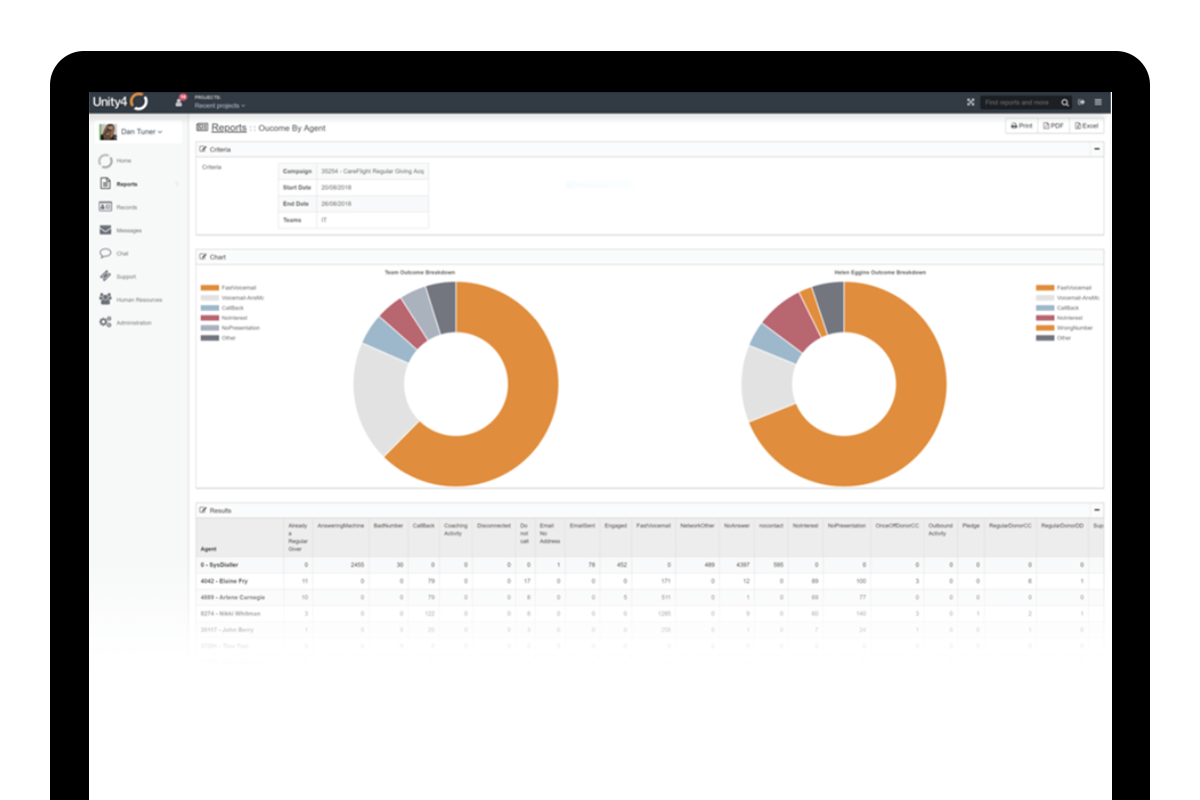 Better Account Management 
Unity4 has now had over 20 years' experience working with clients across various industry verticles. Client's Unity4 account handling function is dedicated to be your voice within our shop focusing efforts to ensure that all our knowledge and resources are harnessed to generate the outcomes so vital for success encompassing both quantitative and qualitative measurement.  
Many of our Client Service Managers come from fundraising and sales backgrounds. You can have the confidence will have confidence that they understand the indepth challenges you face, and apply Unity4's insight tools and collective experience to direct your calling.  
We Offer:  
Practical knowledge and experience:

  Our 

team

 will identify the best way to implement and manage ongoing tele-

fundraising

programs with thoughts around approach, messaging, timing of touchpoints 

the

 lead journey, not just with 

t

he 

phone calls but with other

channels

including

email and SMS.

Technical Expertise:

 Our 

tenured

 

IT 

team

 

are 

apply their 

exp

erie

nce

 

collaboratively

 

with your 

team

 

to

 

design

best practice

Unity4 methodolog

ies

 and 

the 

technical

tools to deliver the outcomes both in revenue and cost of sale perspectives. 

 

Regular

Collaboration:

 Unity4

 

maintains open lines of communications with our clients

. We also are

 

committed to

 

a regime of more

 

f

ormal

 

regular

 

contac

t to

 

provide thorough updates. 

update meetings.

 

The 

Weekly Work 

In

 Progress 

(WIP):

the Unity4 Client Service Manager and

you're the client

 

program manager meet either on the phone or in person, with at least one face to face per month. Unity4 will provide

 

the review material p

ack covering off actions, latest reporting and results, comments, feedback. 

 

 

Quarterly review:

Involving the Unity4 Client Service Manager, General Manager face to face to meeting to review the previous quarter results to budget, feedback, comments, areas for improvement and strategy for the upcoming quarter. 

 

 

 

 

 
Unity4 launched in Australia in 2000, the underpinning technology RapportCMS was released to market as a stand-alone offering and is sold under license by Optus.
Unity4 is still privately owned by the original shareholders.
Unity4 employs more than 800 people worldwide. All phone operators are hired on an employee basis, not as private contractors.
Unity4 and its successful 100% work from home model is a major global tele-fundraiser with offices in Australia, New Zealand, the United Kingdom, and North America.
The quality of our workforce is a critical differentiator for Unity4 and one that has successfully navigated current disrupted marketplace, and the business approach is ideally designed for delivering sales as "the new normal" in the future post-pandemic working world.
Unity4 was established in 2000 and is privately held by the original shareholders
Over 1100 agents operating in the comfort of their own home across the 6 territories
Unity4 operates in Australia, New Zealand, the UK, Canada, the USA, and has just opened up in Fiji!
The group has a Compound Annual Growth rate of 44.28 percent

Live feedback
At Unity4, we have a live feedback loop that gives us real-time on-call outcomes, not just contact rates or conversion percentages.

Finding new customers
We use the full suite of digital traffic sources to find those potential new customers, whilst also using 11+ years of experience to convert initial interest to a sale.   
We believe in the power of conversations to do good for people and business. We're using technology to create more options for how to connect the right people, the right way at the right time.
If you are interested in employment, please go to the "Join Our Team" section of this site to apply.
Australia
PO Box 825
Surry Hills NSW 2010
P 1300 886 489
F +61 2 9475 0813
E info@unity4.com
New Zealand
PO Box 106494
Auckland City
Auckland 1143
P 0800 003 039
F +64 9 353 1563
E info@unity4.com
UK
SE211 e-Innovation Centre
University of Wolverhampton
Priorslee
TELFORD
TF2 9FT
P 01952 985 790
M 07950 905 291
E info@unity4.com
Canada
Sinclair Centre
R142-157 Hastings St W
Vancouver BC V6C 1A1
P 1844 643 6035
E info@unity4.com