Purpose-built, Australia-made Technology Platform 
RapportCMS is our competitive advantage vs our competitors. We are focused on the intersection between telephony, interaction management and the people who handle the calls.  This approach ensures that we make 'human technology' designed by and for contact centre practitioners. 
We know that world class call centre technology must be equally adept at addressing what happens after the agent says hello as to how the call is routed to the desktop.
As one of the leading Contact Centres in the AUNZ market, we had over 10 years of building, refining and improving our technology before then releasing it to market as a SAAS solution.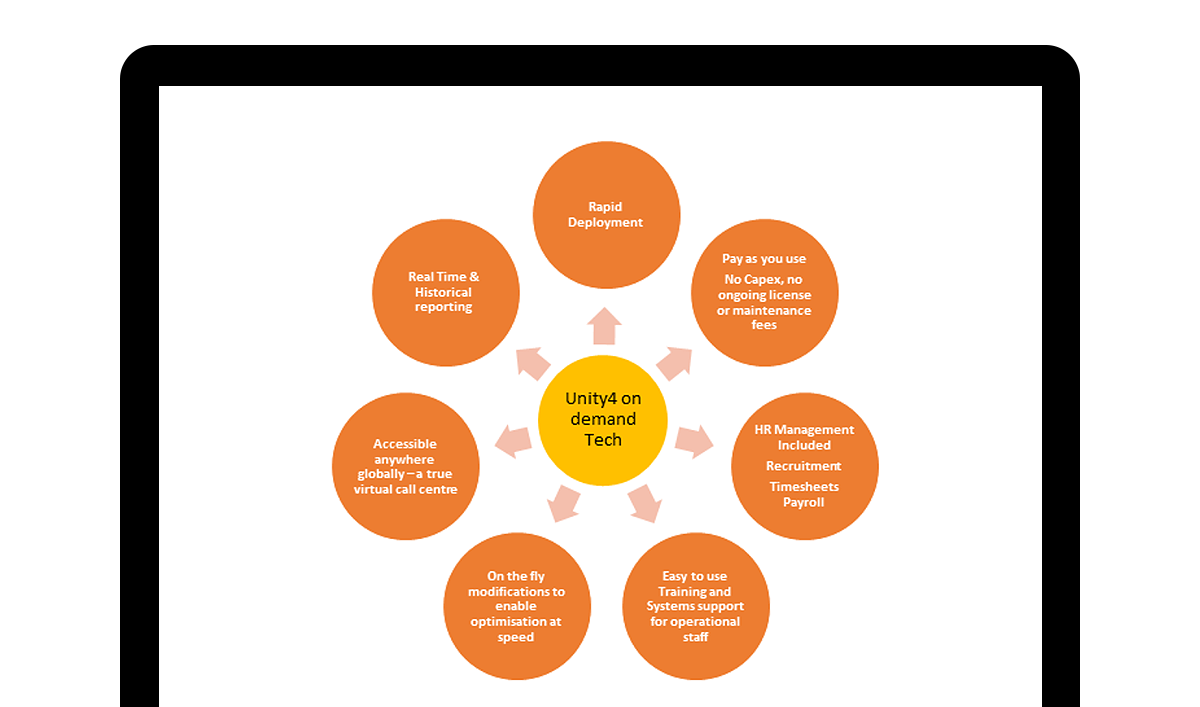 Single end-to-end automated SaaS contact centre platform with all key call centre tools available on demand.

 

Remote agent model – true virtualisation 

 

While most providers have built solutions from a telephony perspective, we recognise what happens after the agent says hello is of equal importance to what happened before.

 

The core telephony functions of routing and dialling are the foundations of our technology; however, it is our attention to the human aspect of running a contact centre that positively differentiates us from our peers.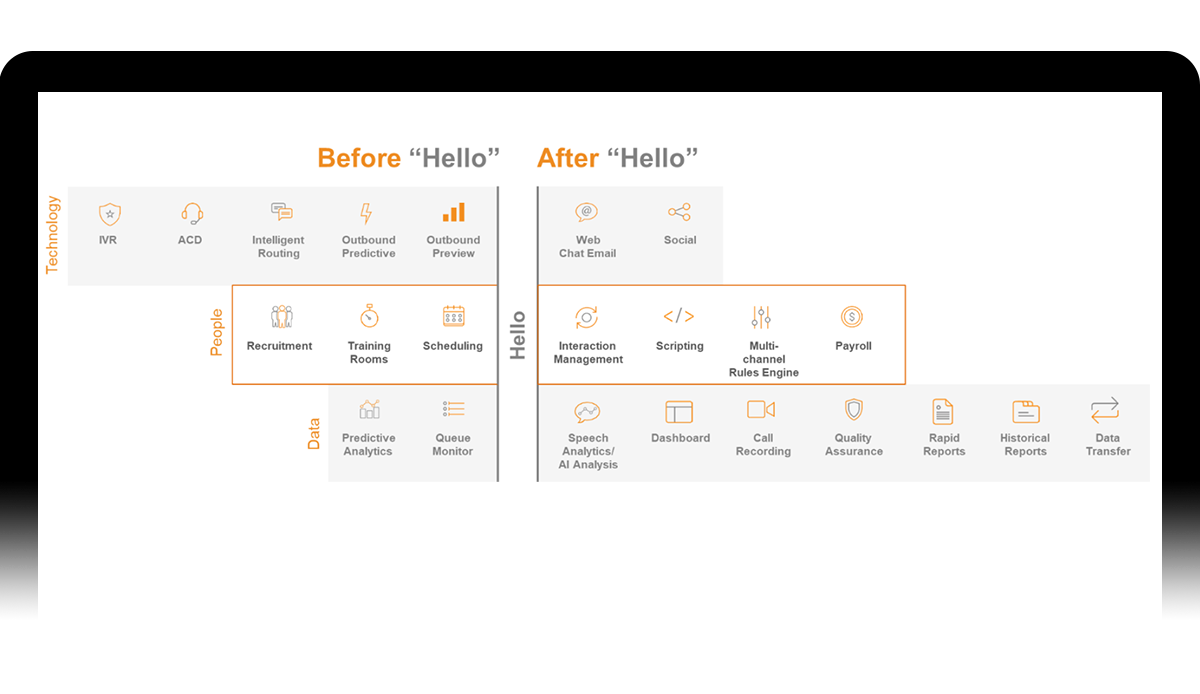 IVR 
RapportCMS IVR system supports your custom queues, on hold messaging or call screening and more advanced functionality such as automated order tracking and customer surveys. 
Allows customers to enter their desired service to ensure correct routing of the call 

 

Database dips to customer

 data to provide customer value-

based routing 

 

Self

–

service options available, order taking, credit card payments, debt management etc. 

 

Full Reporting

 
ACD
Let RapportCMS route your calls in the cloud. Send your calls to agents in your contact centre or at their home, using screen 

pop and our scripting engine.

 

Skills based routing Virtual contact centre, an agent can-log in from anywhere and be part of a single contact centre

 

Utilises Rapports power

ful scripting engine 

 

Screen pop

 
Intelligent Routing 

 
Unity4 have developed an intelligent routing solution enabling contact centre style routing, call recording and detailed reporting available for non-contact centre staff or locations where calls need to be routed. 
Use of the function has be deployed by customers with a large retail network, distributing calls across the country. All calls can be records and staff within the stores are able to log in to listen and score their calls. 
All administration and access to reporting is available within an easy to use portal. No call needs to be missed and a variety of strategies can be deployed to make sure the routing of calls matches the business needs. 
Outbound Predictive

 
Our intuitive predictive dialler gives your outbound campaign the speed and smarts it needs to succeed. 
Flexible list creation and management
Powerful filtering tools for 'on the fly' changes to queues
Simple to use dialler management, no IT required
Self-pacing algorithms ensure maximum list penetration and agent utilisation
Utilises Rapports' powerful scripting engine
Digital Agent

 

 
Available from Unity4 is a ubiquitous asynchronous messaging solution. Clients can select the digital channel they would like to offer to their client.
Customer channels:
Website Live Chat
Facebook Messenger
WhatsApp
Twitter DM
WeChat
Viber
SMS
Email
LINE
Telegram
Amazon Alexa
Google Assistant
Scripting

 

 
Powerful scripting tool that enables your agents to navigate fluidly through, capturing reportable information on the way. From personalised detail capture to complex product selection, we have it covered. 
The Scripting tool is unique differentiator for RapportCMS
Complex or simple processes can be mapped
Agents are guided through the processes, following the prompts and collecting data as needed – ensures consistency of service
All data collected within the platform may be reported on
Third party applications can be "popped" within RapportCMS at the key moment in a process
CRM 

Integration 

 

 
Unity4 has completed many integrations into various CRM and customer management systems. Integrations have included the utilisation of the standard APIs allowing a rich set of functionalities. Systems have included: 
Salesforce

 

Hubspot

 

Oracle/

Sebel

 

MS Dynamics

 

Blackbaud

 

Razor's Edge

And a host of proprietary customer systems
For Inbounds calls U4 can automatically search for the caller's number and pop the customers details within the CRM platform and data can be passed back to through the API to the legacy system. 
In an outbound environment we can do the following:
Allow records to be individually or on mass into Rapport to enable automated 

dialling

CRM records can be automatically updated with interaction history.

Popping of records to the correct screen can be triggered automatically via the scripting engine.

 
Click to Call functionality can be added with call recording and detailed reporting.
Realtime Outbound Monitoring 

 

 
Rapport CMS enables you to real time monitor your queues, with alert systems built in to ensure that you are able to proactively rather than reactively manage. 
All Queues monitored with live dashboards
Queue Alerts can be set by campaign to indicate unusual call / queue durations
SMS Alerts can be set up to let management know of long Queues
Queue Dashboard configured to work on any size of screen
Single or multiple queue views can be configured
Campaign data (such as ROI) information can be included on Queue Dashboards. 
Detailed Reporting 

 

 

 
Watch your data in real time, anywhere you are in the world. This will give you the power to ensure your campaign is performing, and to know where to go to make alterations on the fly.
Mix of telephony and business data in the one report
All data captured can be reported
No summarised data
Custom calculations can be added i.e. cost per sale per agent, % of quota
Fully exportable to Excel or ODBC compliant database
Available from any internet connection
Many templates to choose from
Historical Agent Reporting 

 

 

 
Reporting that can be run right now, wherever you are in the world. We have a ready-made suite of reports ready for you or custom design your own. 

Mix of telephony and business data in the one report
All data captured can be reported
No summarised data
Custom calculations can be added i.e. cost per sale per agent, % of quota
Fully exportable to Excel or ODBC compliant database
Available from any internet connection
Many templates to choose from
Reports can be customised
Call Recording and Scoring 
Make and listen back to recordings with ease. Comes with the ability to turn on and off certain call types/agents/campaigns as per your requirements. 
100% of calls to be recorded or recording on demand
Multiple recordings of the same conversation – one for quality and the other for compliance
Recording can be activated/deactivated by the call scripting and therefore collecting only the required information
Call stored for 65 days on-line and then available as needed on DVD
Integrated Quality Assurance – QQMS Compliance module
Customised Scorecards for each call type
QQMS data can be integrated in to routing strategies.
Quality Assurance 

 

 

 

 
RapportCMS' own quality system uses qualitative and quantitative data to score your agents. The smarts built into your campaign's scoring system enable you to achieve optimum outcomes. 

Online Scorecards are fully customisable by campaign / Call Type
Scorecards provide an aggregated score across agents, teams and contact centres
QQMS score can include Qualitative and Quantitative data
Routing decisions can be made using QQMS scores
Scheduling decisions can be made using QQMS
Individual performance reports can be accessed as feedback by agents.
Multiple scorecards can be filled out for a single call, enabling 'calibration of assessment' between assessors.
Analytics as a Service 

 

 
Unity4 partners with the leaders in the area of agent analytics, combined with the use of AI and machine learning applied to collected data and the result of speech to text engines. It is the combination of analyst collected data that allows the best utilisation of automated options within the client name short contact centre.  
Combining a high-quality duplex call recording capability and a market-leading speech-to-text engine, the service can accurately listen and collate 100% of conversations 24/7. 
The AI engine identifies the key conversational elements which provide meaning and context. 
Applying semantic engine, the service deciphers the conversations identifying: 
Tone, clarity, energy

Key phrases and topics

Call behaviours such as talk speed, personality, customer education level, pauses, over-talk and silences
Through a standard or bespoke visual representation of insights, the solution provides predictors and potential courses of action for: 
Compliance remediation
Individual agent & team training
Brand experience improvement
Key metrics improvement (AHT, FCR)
Customer satisfaction improvement
Customer buying predictors
Agent & customer churn predictors
This would be an additional charge based on hours transcribed, pricing available upon request.
Virtual Training Rooms

 
RapportCMS has virtual classrooms designed to foster the best learning environment for your agents. Includes conference call, slideshow, app sharing, and trainer to agent interaction. 

Online Classrooms can be established per customer
Virtual training can be conducted 'within' RapportCMS Teleworker"
We also integrate with MS Teams
Application sharing.
Supports PowerPoint and PDF Whiteboard Sessions
Integrated voice bridge
Multi-Chanel Rules Engine 

 

 

 
Our multichannel rules engine gives you the power to manage your campaign data. From development through script build, email and SMS to final data delivery we have it covered. 
Email gateway
SMS gateway
Emails and SMS can be automatically sent to customers with data collected during the interaction
Agent does not need to see or manage the process, simply follow the script
Data file automatically posted to SFTP sites, emails to mail houses
Process XML integration with external web sites
Automation of data cleaning and data updating/appending
Recruitment 

 
Our online recruitment system is world class and takes your agents through the entire recruitment process, from the initial application through to going live.  

Online recruitment module included in RapportCMS
Customisable Application process
Customisable Questions and Tests
Variable Pass / Fail thresholds
Candidate management (Auto Email function with document management)
Generation of online "To Do" list for Recruitment coordinators
Successful candidates are Auto set up in RapportCMS production environment "ready to go"
Interaction 

Manager

 

 

 

 
Our interaction management system makes even the most complex processes simple to follow for your agents 
Complex or simple processes can be mapped
All data collected within the platform may be reported on
Customer data can be utilised within the script and is capable of the following:
Include name and product details

Outcomes from previous interactions such as sales or complaints
Acknowledge long wait times
Customer value or products can automatically trigger different scripts
Personalised interactions
Pay

roll

 
RapportCMS' payroll system captures all agent data to enable close to 100% payroll automation.  

Presence engine captures all payroll time and day information
Gross agent remuneration can be calculated by agent by campaign by project
Time sheets can be 'pushed' to agents for approval within Teleworker
Timesheets can be 'disputed' or accepted'
Payroll administrators can contest disputes or approve for payment
Payroll files can be developed for most accounting applications – MYOB, Sage, Quicken
Net pay information (after tax and entitlement is calculated by accounting software) then imported back in to RapportCMS
Data Transfer

 

 

 
Secure data transfer to wherever you need it
All customer and interaction data available
Exports are completely customisable to enable integration to third party applications
Data transfer to SFTP can be automated via the RapportCMS rule engine
Secure file transfer protocol is PCI compliant
Complies with industry best practice for security.
Certificate and IP restricted access layers.
We believe in the power of conversations to do good for people and business.We're using technology to create more options for how to connect the right people, the right way at the right time.
Australia
PO Box 825
Surry Hills
NSW 2010, Australia
P 1300 886 489
F +61 2 9475 0813
E info@unity4.com
New Zealand
PO Box 106494,
Auckland City
Auckland 1143, New Zealand
P 0800 003 039
F +64 9 353 1563
Daniel Pickering – International Sales Director
E: daniel@unity4.com
UK
The Old Grammar School
St Leonards Close
Bridgnorth WV16 4EJ
P 0800 003 039
E info@unity4.com
Canada
Sinclair Centre
R142-157 West Hastings Street
Vancouver BC V6A 1A1
P 1844 643 6035
E info@unity4.com