Cause-led Social Media campaigns
We help drive qualified charity leads using Social Media advertising, and we support it via our editorial support of multiple charitable causes.  We use look-a-like audiences as well as broad-matching to achieve outstanding results for our not-for-profit clients.  
We manage every step of the process, from Ads, to landing pages and media planning and buying, all wrapped into one Cost Per Lead, sent directly to your call centre to convert into Regular Donors.  
Calling results from these ads are outstanding, with a 20% uplift in contact rate and a 20-30% uplift in Conversion to contact.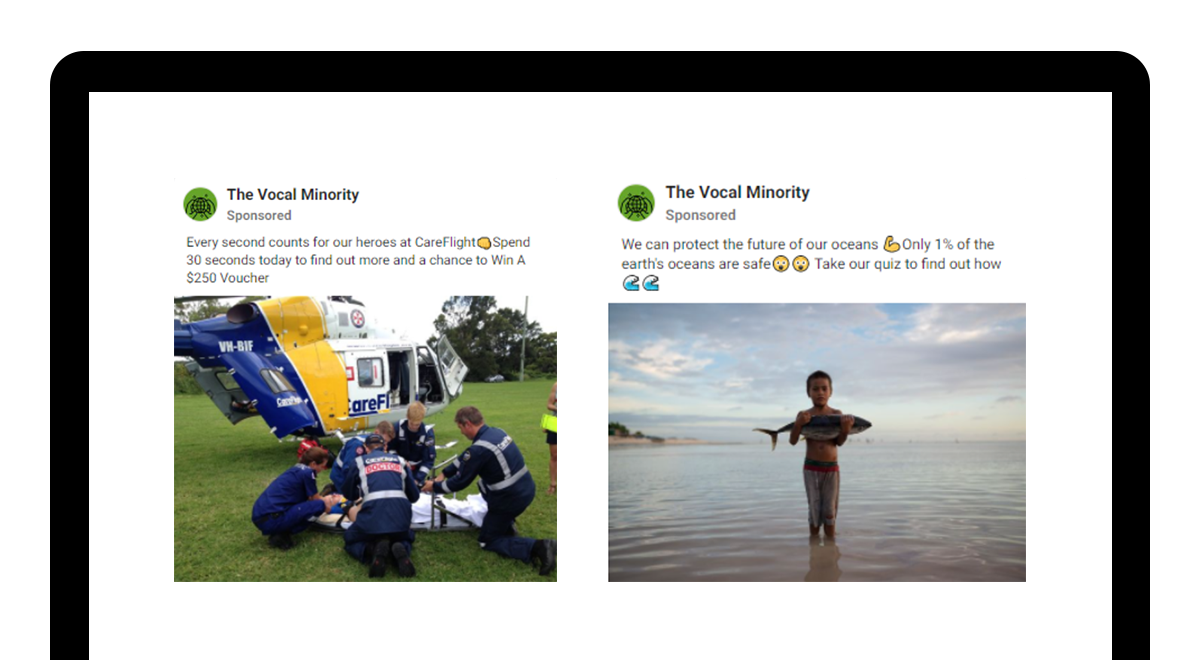 Unity4 was established in 2000 and is privately held by the original shareholders
Over 1100 agents operating in the comfort of their own home across the 6 territories
Unity4 operates in Australia, New Zealand, the UK, Canada, the USA, and has just opened up in Fiji!
The group has a Compound Annual Growth rate of 44.28 percent
We believe in the power of conversations to do good for people and business.We're using technology to create more options for how to connect the right people, the right way at the right time.
If you are interested in employment, please go to the "Join Our Team" section of this site to apply.
Australia
PO Box 825
Surry Hills NSW 2010
P 1300 886 489
F +61 2 9475 0813
E info@unity4.com
New Zealand
PO Box 106494
Auckland City
Auckland 1143
P 0800 003 039
F +64 9 353 1563
E info@unity4.com
UK
SE211 e-Innovation Centre
University of Wolverhampton
Priorslee
TELFORD
TF2 9FT
P 01952 985 790
M 07950 905 291
E info@unity4.com
Canada
Sinclair Centre
R142-157 Hastings St W
Vancouver BC V6C 1A1
P 1844 643 6035
E info@unity4.com